This morning, when I should have been writing something else, I went online and tweeted this: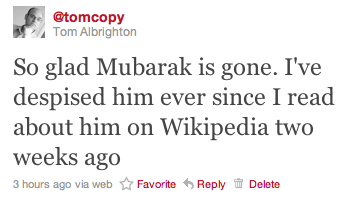 A droll little sentiment perhaps, and no less satirical for being true. It wasn't even that original, having much in common with an earlier tweet by Kevin Mills (@bravenewmalden). My concern for Egypt's future, though certainly sincere, sadly did not originate before the blanket news coverage of the recent protests. And, like many others, I'd have been hard-pressed to name the country's president a month ago. (I probably could have managed its capital city.)
Having got that off my chest, I went off to have my lunch. Little did I suspect that, by the time I returned, that little Tweet would prove so resonant as to gather around 50 retweets. One of them was from UK comedian Sue Perkins (@sueperkins), who has 75,000 followers, which seems to have put the whole thing into overdrive:

A few people had actually commented on the tweet, but there were so many more messages quoting it that I could hardly find them. I realised I was getting an insight into how the @ mentions of people like Stephen Fry and Kanye West must look, all the time.
I couldn't really believe what I was seeing. Then I got a message from TrendsUK, informing me that @tomcopy was now trending in the United Kingdom:

Sure enough, when I clicked through to the site, there I was, sitting proudly atop the trends list – a 'breaking' trend, no less: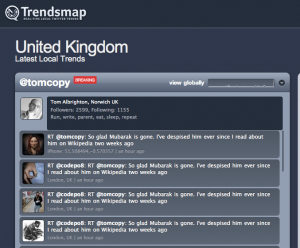 At this point, a dizzy sense of unreality descended. Just as the revolutionary spirit had swept through the streets of Cairo, so my dryly ironic comment on it was taking the UK by storm. Soon, everyone would know my name. I'd be recognised on the street – indeed, leaving the house might well be impossible, with so many adoring fans pressed desperately against the windows. A millionaire several times over, I'd be looked up to in awe as a cultural arbiter of formidable prescience and power. Women would want me; men would want to be me.
In fact, all that was happening was that a few people were pressing a button on a computer screen because they liked a gag. But it still felt weird that this little tweet had taken on an independent life of its own, pinging around the world from one personal network to another. Was it part of me, or had it broken free somehow?
I expect you're wondering what a Twitter celebrity does with his Saturdays. Well, the answer is that he goes into the garden to clear up some fox poo and bounce on a trampoline with his daughter. Yes, incredible as it seems, my family's ignorance of Twitter meant I could sustain this double life for the whole afternoon. And besides, I try to stay grounded. The street is what made me who I am, and I try to stay in touch with it; it gives me power.
When I came back in, I found that the Tweet was still gathering retweets (including one from US comedian Tom Green, @tomgreenlive), and had passed the 100 mark, becoming  a Top Tweet on a search for 'Mubarak':

But by 5pm, the mentions seemed to be drying up. A solitary tear crept down my cheek, then fell, forgotten, like yesterday's trending topics. But I'll always treasure the memory of my brief season in the sun. And one day, some day, I'll be back…