Digital agency Cluster needed condensed, accessible text for a microsite promoting FujiFilm's Z30 camera, primarily to young female consumers.
The highly condensed copy had to convey the camera's technical strengths in a way everyone could understand.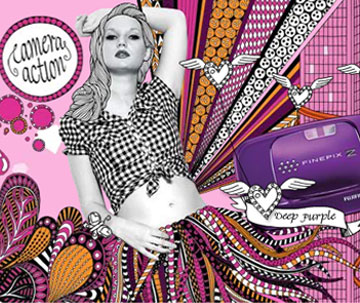 Key aim
Turn technical features into human benefits
What we wrote
Perfect portraits
Just point and click – the FinePix Z30 will make everyone look great. Face Detection finds and focuses on up to ten people, staying 'locked on' even if they move around. It even adapts to light and dark and stops spooky 'red-eye'.
It's all in the timing
The FinePix Z30's clever self-timer doesn't take the picture until it can see everyone's face, so you can forget about people being missed out of the shot.
Cheek to cheek
Couple Timer waits until it sees two faces together before it takes the picture. You choose the pose: standing side by side, or up close!
The more the merrier
Want to be in the picture yourself? Group Timer mode picks out up to four faces, sets the timer automatically and waits until you're all ready… no more chopped-off heads!
Picture the scene
Most digi cameras have scene modes, but you still have to choose which one to use. Scene Recognition does it all for you, automatically selecting Portrait, Night, Landscape, Macro, Night Portrait or Backlight Portrait for great pictures anywhere.
Freeze it!
It's so disappointing – a moment to remember, but a picture you'd rather forget. Picture Stabilisation corrects blur from camera shake, freezes movement and brightens dark backgrounds, for pictures you'll be proud of.
Camera, action!
The One Touch Movie button makes it so simple to shoot your own movies. You can even edit your clips in the camera, or carry on with one you made earlier to make movies up to 60 seconds long.
Social butterfly
Sharing photos is half the fun. With Dual Blog mode, you can get your pictures and movies all ready for email, bebo, FaceBook, YouTube or your blog – so everyone can see what you've been up to.
What they say
ABC were able to assist us at very short notice, quickly transforming some rather technical specs into lively, informal copy appropriate to our target audience.
They took on board all our requirements and delivered, on time, precisely what was asked for.
I'd definitely recommend working with them.
Sarah Herbert
Cluster Digital