Suki Shufu is a premium range of activewear and accessories for yoga and fitness.
The company wanted a set of short, appealing lines to introduce key products in an image carousel on its home page.
Our copy brings together all the key elements of the Suki Shufu brand: practical and health benefits, fashionable styling and strong lifestyle appeal.
We also developed a brand narrative and an 'About us' page.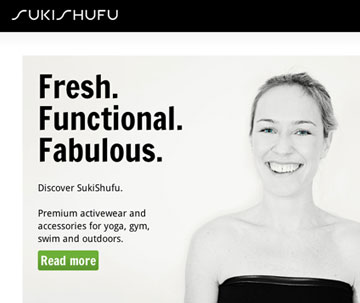 Media
Home page, brand story, 'About us' content
Key aim
Introduce website visitors the Suki Shufu range and brand
What we wrote
Fresh. Functional. Fabulous.
Discover Suki Shufu.
Premium activewear and accessories for yoga, gym, swim and outdoors.
Look great. Feel fantastic.
SukiLeatherbacks with our signature leatherette waistband, exquisite prints, funky solids and touchable finishes.
Cut for comfort. Made to last.
The driest bag for wet kit.
Pack your kit and towel in the watertight, eco-friendly Suki Sack and forget plastic bags forever.
Breathe naturally.
Organic standard Suki 7 Oils with precious Camellia aid deep breathing and relaxation, plus pure Echinacea for natural disinfection.
In two entrancing scents for gym time, downtime or bedtime.
SukiSavasana. The base of a great workout.
Luxurious, reliably non-slip towel with pocket for valuables and markers for yoga foot placement.
Perfect for gym, pool or beach.