The University of East Anglia wanted a brochure to encourage ambitious academics and executives to join the staff by explaining the many plus points of the university and its surrounding area.
Working in collaboration with local agency Darren Leader Studio, we developed text for the entire publication, including magazine-style interviews with several UEA staff.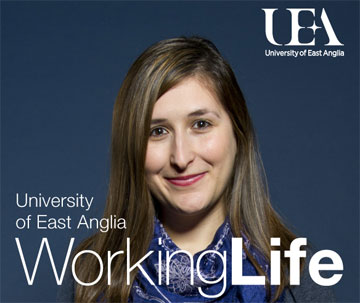 Client
University of East Anglia
Agency
Darren Leader Studio
Media
Recruitment brochure
Key aim
Position UEA and the surrounding area as a great place to live and work
What we wrote
What would it be like to work at UEA?
How would I spend my working days, my weekends, my holidays?
What about my partner's job, or my children's school?
What would the future hold?
If you're considering a post at UEA, you need answers to these questions and more. So we produced this brochure to show you what life is like for those who live and work here.
It outlines the University campus and faculty, and gives a flavour of life in Norwich and Norfolk, from buying a house to sailing a boat.
We hope it will help you make your decision.
Why UEA?
There are so many reasons to choose UEA and its surrounding area. Here are 10 of the most important…
Internationally recognised teaching and research, with exciting opportunities for collaboration and promotion
Attractive reward packages, plus benefits including on-campus nursery and access to free lectures
A youthful and enthusiastic culture, focused on new ideas and new opportunities
A modern, accessible campus with shops, cafés and a beautiful natural setting
A superb sports centre offering swimming, athletics, racquet sports, a gym and more, with discounts for staff
A very high standard of living, with low property prices and little crime
A beautiful local area to explore that combines the very best of city, country and coast
Excellent local entertainment, including shops, restaurants, bars, theatres, cinemas and major events
Outstanding accessibility – reach UEA, the city of Norwich and the rest of Norfolk quickly and easily
Diverse employment opportunities, making it easy for partners of UEA staff to relocate here.
What they say
Our brief was to create a brochure with a magazine feel. Together with Tom we discussed a content structure to inspire and inform academics and future staff about careers at the UEA and the benefits of relocating to the eastern region – either from the UK or worldwide.
Tom conducted a series of interviews with selected UEA members of staff, each with their own story – then identified a theme for each section that detailed careers and opportunities, to spending time out and making a new life. Tom then worked up his content, which flowed perfectly throughout the brochure design – revealing stories of genuine interest.
The end result is the perfect combination of words, imagery and design.
Darren Leader
Managing Director, Darren Leader Studio