London agency Futureproof approached us to develop content for World Vision's pitch card.
The card is used by on-street canvassers to encourage people to agree to a regular donation.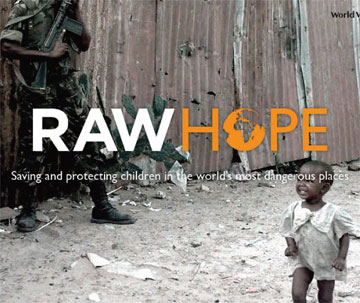 Key aim
Highlight the plight of vulnerable children to
encourage regular donations
What we wrote
Please give children hope. Raw hope.
World Vision Raw Hope helps children in the world's most dangerous places. Places other charities don't go.
Your gift of just £10 a month will give hope to some of the world's most vulnerable children.
Please help.
Harmful traditional practices
Female genital mutilation is risky and painful, but it still happens around the world.
World Vision Raw Hope helps victims like Chelimo, offering education and challenging communities to stop the practice.
Child sex workers
Eleven-year-old Clarisse saw her parents killed in Congo's internal conflicts. Taken in by the madam of a local brothel, she must now sell sex to buy food.
World Vision Raw Hope supports Child Parliaments to protect children like Clarisse and empower them to fight for equal treatment.
How you can help
We're asking you to make a regular monthly donation of just £10.
For the same cost as a £2.50 coffee once a week, you can help to change the lives of children like Chelimo and Clarisse.
We work in Somalia, North and South Sudan, Afghanistan, Pakistan and Democratic Republic of the Congo. Your money will support relief work wherever it is needed, right at that moment – something few other charities can achieve.
All you have to do is provide your contact details, direct debit details and signature. We'll do the rest.
We'll also send you regular video updates on our work, so you can see the difference you have made.
Thanks for helping us give children hope.