Amy Rose Cupcakes is a startup business selling a range of cupcakes to clients in East Anglia. The company wanted some lively, evocative copy for their website, to complement the colourful design and high-quality product photography.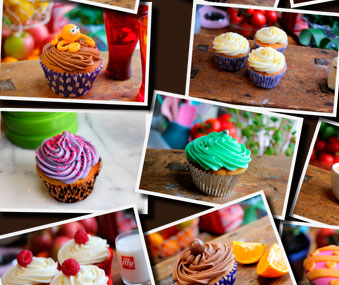 Key aim
Describe hand-made food products in an appealing way
What we wrote
Amy Rose Cupcakes
Our custom-baked cupcakes bring fun and colour to every special occasion – and they taste simply scrumptious too.
Flavours
You can choose a classic favourite like chocolate or vanilla, go healthy (well, a little) with carrot cake or branch out into something more exotic.
And if there's something you'd like to try, ask us! We won't say no, how could we?
Decorations
When it comes to icing and decoration, you really can have any swirl, shape or sprinkle you can think of.
Suns, stars or stripes. Zigs, zags or zebras. Fruit, flowers or footballs. Pigs, peppermints or people.
There really are no limits, so let your imagination run wild – or just ask us to suggest something, we'll be happy to help!
Mini cupcakes
Bring some sweet sophistication to your hen party or wedding morning with our marvellous mini cupcakes. They're fun, feather-light and fantastic with fizz. Available in vanilla, chocolate and lemon for just 75p each.