Nearby Deals is a mobile app that alerts the user to deals and savings available from local retailers, restaurants and leisure sites.
We were engaged to write copy for the website promoting the app to both sides of the user base: consumers and businesses.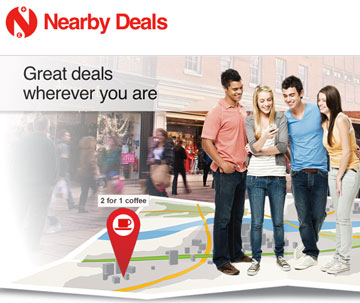 Media
Website, Sales letters
Key aim
Explain the benefits of mobile app to users and businesses
What we wrote
Nearby Deals
Nearby Deals is an exciting new way for shoppers and retailers to connect using the latest mobile technologies.
For shoppers
Nearby Deals puts fantastic savings in the palm of your hand.
Wherever you are, we bring you the latest deals from nearby shops, bars, clubs, restaurants and leisure facilities – right on your phone.
Try something new, save on your favourites and share with your friends. Saving has never been so much fun!
To join Nearby Deals and start saving, click here.
For retailers
Special offers are one of the best ways to get new customers – and Nearby Deals are targeted, flexible and effective.
Nearby Deals prompt impulse purchases, with savings that encourage people to try you for the first time. Locked deals and additional rewards give people a reason to spread the word to friends and family.
To get your deals listed and start driving new business, click here.
What they say
Wow, amazing. I love reading good copy. Even though it's my idea, you've made it sound even better.
Paul Gosnell
Director, Nearby Deals