Digital and mobile developers Unboxed Consulting had a great idea for marketing their services: an 'Unboxed Man' action figure that they could send to potential clients.
We were engaged to develop some packaging copy for the figure. It had to fit with the 'Action Man' theme while also communicating the strengths of the company's service (including its use of the Agile methodology).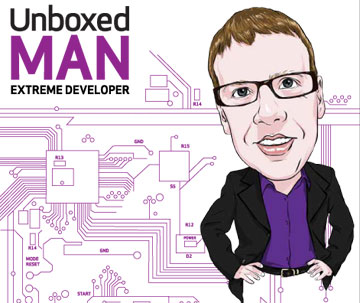 Client
Unboxed Consulting
Media
Action figure packaging
Key aim
Communicate B2B benefits with a humorous tone of voice
What we wrote
Unboxed Man
He codes sites. He shoots trouble. And he kicks major ass!
He builds web apps… that make complex online tasks simple.
He creates mobile apps… that bring your brand to iPhone, iPad and Android.
He'll make you Agile… so your work is accurate, fast and focused.
Unboxed Man packs the tools to deliver…
X-Ray Spex so he can spot evil code bugs through space and time – AND understand alien languages like Ruby, Java and Objective C
Laptop so he can turbocharge every site with the webtastic power of Facebook, Twitter and Google Analytics
Smartphone so he can conjure up awesome new ideas for fun and useful business apps
Watch so he can save the universe (and complete your project) before it's too late
Thermos Cup for an instant burst of caffeine-fuelled hyperspeed when the deadline looms
Also available from Unboxed…
Amazingly Agile Project Manager. Overcomes obstacles, destroys delays and moves mountains to get your mission accomplished on time
Totally Tenacious Tester. Her incredible lazer-guided Test-O-Vision makes sure your project works on every platform and browser in the galaxy.
About us
Unboxed is an ultra-digital task force with secret underground bases in London and Cape Town.
With our cybronically enhanced megabrains, no technical challenge is too tough, no project too complex.
We have mindbending skills in Ruby on Rails applications and cross-platform mobile apps. And we use our superpowers for good, by delivering your project to spec, on time and on budget.
We use Agile methodology to react to new requirements in the blink of an eye, so you can bring a breathtaking product to market faster than you dared to dream.
If you've got a digital problem you can't fix, call us – then watch the skies.
What they say
Tom is an excellent copywriter, able to quickly craft words in a succinct yet powerful way.
Juliet Prowse
Unboxed Consulting