Special offer on 'Copywriting Made Simple' ebook
For the next three days only, the ebook of Copywriting Made Simple is available at the special discounted price of £1.99 or equivalent.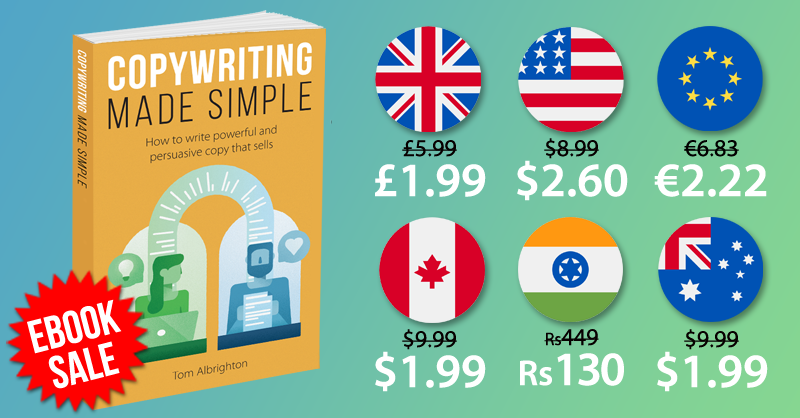 The book is a lively, accessible guide to the essentials of copywriting that distils everything I've learned in 12+ years as a copywriter. It's aimed at beginners, but has plenty for experienced writers too.
It features hundreds of real-world copy examples, is illustrated throughout and includes simple thought exercises to put your new knowledge into action right away.
Industry experts say:
'A lifetime of knowledge' – Dave Trott, creative legend
'Educational, entertaining and energetic' – Katherine Wildman, The Writing Desk
'The best all-round introduction to copywriting' – Leif Kendall, ProCopywriters
'A must for every newbie' – Kate Toon, Hot Copy Podcast
Amazon readers say:
⭐⭐⭐⭐⭐ 'A triumph' – Laura Marie Parker
⭐⭐⭐⭐⭐ 'Essential reading for copywriters' – André Spiteri
⭐⭐⭐⭐⭐ 'Buy this book – you won't regret it' – Ben Millar
⭐⭐⭐⭐⭐ 'I love this book' – Matt Ward
Special offer price available from Amazon, Kobo and Google Play. More info and buy links here.