Sainsbury's slogans through the years
As reported by Marketing Week, Sainsbury's is adopting a new tagline, 'Live well for less'. So I thought we'd try something new today with a tour of its past slogans. You never know, it might make life taste better.
The early years (1882–1945)
In 1882, John James Sainsbury opened his Drury Lane grocery and put up a sign reading 'Quality perfect, prices lower'. If only he'd known that over a century later, the UK's finest branding brains would still be grappling with the problem of how to talk about quality and/or value in a convincing way.
Over the following decades, Sainsbury's used a range of ad hoc slogans. A visit to the Sainsbury Archive turns up 'Sainsbury's for Quality, Sainsbury's for Value' (1918), 'The best is always at Sainsbury's' (1920s) and 'Help yourself to the best food at Sainsbury's' (1950s, referring to the innovation of self-service shops).
'It's clean, it's fresh at Sainsbury's' (1945–1960s)
I feel like I can remember this line, which is strange, since it was phased out before I was born. Some sort of collective folk memory perhaps – or the result of carrier bags, biscuit tins and plastic syrup jars living on for decades in our house.
For some reason, I find the use of 'it's' deeply evocative of decades gone by. What is 'it'? I don't really know, but whatever it is, it's clean, it's fresh! It's whiter than white! It's the real thing!
Imagine a food retailer claiming to be 'clean' in 2011, or pointing to the freshness of its products. It's so much taken for granted that raising it would arouse suspicion. Why are you telling me that?
Cleanliness and freshness are the least we expect today, so it's hard to relate to this line. But the self-serve supermarket experience must have felt pretty new and futuristic in the white heat of 1950s Britain, with memories of rationing and the Blitz still all too fresh.
'Good food costs less at Sainsbury's' (1959–1991)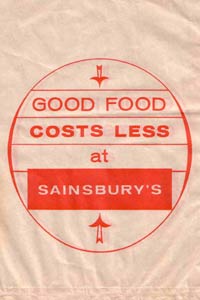 This line was devised by agency Coleman, Prentice & Varley, and is really Sainsbury's first 'proper' corporate slogan. It was emblazoned on everything from paper bags to delivery lorries, and has been described by BBC News as 'probably the best-known advertising slogan in retailing'.
How did this monster make itself irreplaceable for over three decades? By nailing the quality/value problem so brilliantly. The bulletproof 'good food costs less' elegantly blends goodness and cheapness in one simple, everyday phrase, without resorting to double-barrelled contrivances like 'Sainsbury's for Quality, Sainsbury's for Value'.
Back in the day, it was commonplace for slogans like this to include the company name, as in 'Get a little extra help from the Halifax' and so on.The only modern-day equivalent I can think of is 'You could save money at Confused.com'. These days, the standard practice is just to state the brand in the vicinity of the tagline (e.g. 'It's got our name on it. Wickes.'). But there's a lot to be said for locking your brand name into a sentence that's both natural and memorable.
'Everyone's favourite ingredient' (1991–1999)
Perhaps sensing that 'good food costs less' was getting on a bit, the chain used this line for a serious of campaigns featuring celebrities such as Ernie Wise and Catherine Zeta Jones cooking Sainsbury's food.
Likening a shop to an ingredient seems weird, because I buy the ingredients at a shop. The metaphor straddles two conceptual levels rather awkwardly.
Also, 'everyone's favourite' sounds good at first, but we all know that different people have different favourites, so the hyperbole flies in the face of our real-world knowledge. I'm not sure that's a good basis for persuasion.
'Fresh food, fresh ideas' (1998)
Not a true corporate tagline as far as I can tell, but another widely used slogan that perhaps expressed Sainsbury's own inner longing for change.
By this time, 'fresh food' wasn't really all that much of a claim. You could get fresh food everywhere. And 'fresh ideas' just seems too vague. What kind of ideas? About what? For whom?
For me, this one gets dangerously close to the sort of egocentric B2B tagline that's all about the company's own brilliance, offering no nook for the poor customer to inhabit.
'Making life taste better' (1999–2005)
For Sainsbury's, the 1990s were tougher than an overcooked Value Steak. Snubbing loyalty cards, trying to focus exclusively on food and indecision over whether to market based on quality or on value were just some of the problems. Having been the market leader for much of the 20th century, Sainsbury's ceded its position as the UK's largest grocer to Tesco.
June 1999 saw the Sainsbury's brand being relaunched with help from M&C Saatchi, who friendlified the logo from its brutalist 1960s all-caps style into the rounded, upper-and-lower Interstate version we know today. Sainsbury's also adopted this new tagline crafted by Abbott Mead Vickers BBDO.
'Good food' and 'favourite ingredient' had to go because, by now, the supermarkets were selling us all sorts of stuff besides food. Sainsbury's solution was to sublimate the food message without discarding it, with this 'tasty life' metaphor. Some might say it's a bit of a fudge.
In this slogan and the rebrand that accompanied it, we can see the beginning of brands consciously becoming warmer and more stereotypically 'feminine'. The present participle 'making' has no subject, making the sense diffuse and non-specific, and ending on an unstressed syllable gives a soft, yielding feel. The line was also set in all lower case, making it even more self-effacing.
A 'feminine' style perhaps makes sense when most of your customers are women, but Sainsbury's had courted them very successfully for years with the bang-bang-bang-bang 'masculine' metre of 'good food costs less'. (A possible 'masculine' version of this slogan would be the imperative 'make life taste great'.)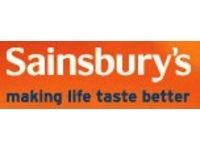 There's no mention of cost, making this a 'quality' slogan by default. By now, Sainsbury's was being prodded remorselessly from below by Asda's 'low cost' trident, which made Sainsbury's look pricey even when it wasn't. And this slogan didn't do much to take the fight to Asda's automatic sliding door.
In 2009, Asda caused a stir by placing full-page ads featuring the phrase 'Good food costs less at Asda' – although strictly as a seasonal catchline, not a corporate slogan.
Sainsbury's didn't pursue it, sniffing that they were 'flattered that Asda has chosen to follow in our footsteps'. If they weren't worried, they should have been – this ultimate compliment flagged up the unbeatable strength of the tagline they'd thrown away all those years before.
'Making life taste better for less' (2002–2005)
From 2002, Sainsbury's used the line 'Making life taste better for less' for its Savacentre discount supermarkets. This ill-advised 'brand extension' practically guaranteed that the 'real' Sainsbury's would be seen as expensive, if it wasn't already.
Just seven Savacentre supermarkets opened, and the brand was soon subsumed back into the main Sainsbury's marque. Moral: don't use your marketing to highlight the fact that you're cannibalising your own business.
'Try something new today' (2005–2011)
Sadly, life didn't end up tasting much better for Sainsbury's. Even its own corporate history admits that the advent of 'Try something new today' marked 'the end of a disappointing period in our history'.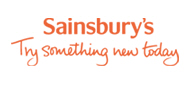 'Try something new' arguably shows marketers projecting their own worries onto their audience. Sainsbury's sure needed a new angle, since shoppers already were trying something new – Morrison's, which had become the UK's fourth-largest supermarket chain.
The new slogan was launched in 2005 as part of a major shake-up aimed at boosting sales. Like its predecessor, it was created by Abbott Mead Vickers BBDO.
According to Management Today, 'Try something new today' was developed in response to research showing that many Sainsbury's customers were 'sleep-shopping' – sticking to the same 150 products out of the 30,000 stocked by the chain.
In terms of content, the slogan stays well away from price, and indeed quality too. Instead, it positions Sainsbury's as the source of fresh and exciting experiences with the powerful selling words 'new' and 'today'.
The use of the imperative 'try' makes the slogan immediate and direct, telling people to branch out or buy more on impulse. This rather pushy, didactic ethos was backed up at ground level with in-store 'food advisers'. It was all a bit patronising – and that wasn't helped by endorsements from fat-tongued 'naked chef' Jamie Oliver and his food crusades.
Ultimately, though, the price of immediacy was irrelevance. Novelty, while exciting, isn't actually a benefit. 'Something' is abstract and non-specific, while 'try' is inherently tentative and provisional. (The cheezy but much more powerful alternative is 'discover'.)
If a slogan's job is to promise value, this one came up short. Even though Sainsbury's own research had shown that people didn't particularly want to try new things, they still put novelty at the heart of their message.
'Live well for less' (2011–)
Fade up on a majestic glass-fronted office building in Holborn, its panes glinting in the morning sun. Caption: 'The present day'. A tousle-haired celebrity chef, dressed as lamb, kick-starts his Vespa and melts into the rush-hour traffic. It's another new dawn for Sainsbury's.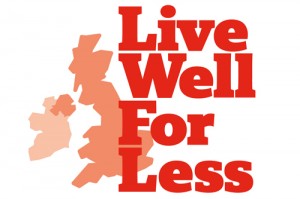 Keen to shake off perceptions that it's expensive, Sainsbury's goes for the jugular with this four-word lethal weapon. When you look at it, it's really a dubstep remix of 'good food costs less' – same four-word, four-syllable structure, and 'less' is back too.
'Live well' is a pitch to the health market, which I would say is short-sighted based on the rubbish I see in most people's supermarket trollies. As a more general phrase to encompass food and everything else Sainsbury's sells, it's probably OK (see the pitch to consumers here). But it lacks the hearty, sensual appeal of 'good food' and, for me, does carry a tang of asceticism rather than indulgence. Perhaps that's an inevitable token of the 'austere' times we live in, confirmed by the frugality of 'for less'.
Dancing like a freak around its own brand message, Sainsbury's is at pains to point out that, despite its clear 'price' message, quality is still paramount. Oh, and it's not necessarily cheaper either. Here's part of the refreshed brand's 'mission statement':
Helping you live well for less isn't about saying that our food will always be cheaper that other supermarkets (we'll never compromise on quality and are committed to bringing you products sourced responsibly) but it will cost less that you thought at Sainsbury's.

Sainsbury's will never scream its value message in the way Asda and Tesco do, instead taking the more subtle approach to appeal to shoppers' emotions.
So, are you cheaper, or better, or both, or (since it's hard to tell what you really mean when you put such whacking great sub-clauses in brackets) what?
The 'subtle approach' is great, as long as the audience understands (and cares about) your shades of meaning. Simple messages always win. Time will tell whether Sainsbury's has found the right one.
What's that? What would I do? Well, I have spent most of this post sniping so maybe I should actually create something. I might go for a binary opposition like 'Spend less, live more', which ends on a positive. Or how about something more cheerful, like 'The life you love for less'? But in the end, having done my history homework, I think my best shot would be to go back to the future with 'Life costs less at Sainsbury's'. If you can't beat it, rejoin it.
Tags: Abbott Mead Vickers BBDO, Asda, Coleman Prentice & Varley, Everyone's favourite ingredient, Fresh food fresh ideas, Good food costs less at Sainsbury's, Heraclitus, It's clean it's fresh at Sainsbury's, Jamie Oliver, Live well for less, M&C Saatchi, Making life taste better, Morrison's, Sainsbury's, Savacentre, slogans and taglines, Tesco, Try something new today