Free copywriting ebook: How to write a B2B website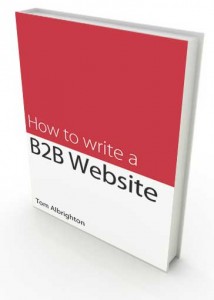 This is a concise, easily readable guide to planning, structuring and writing a B2B website.
It's ideal if you're approaching the task of writing a B2B site for the first time, whether as an in-house marketing professional or a copywriter whose experience is in other areas.
I've written B2B sites for a huge range of businesses, including accountants, app developers, architects, builders, consultants, digital agencies, electricians, gas fitters, lawyers, logistics providers, payment service providers, pest controllers and sales trainers. This book contains the key points that I use to guide my work whenever I'm approaching a new B2B website writing project.
The book is 28 pages long, with just over 5000 words, and includes sections on:
What to think about before you start
Structuring your B2B website
Deciding what goes on the home page
Explaining your products and services
Demonstrating your capability and persuading prospects to choose you
Providing background information about your firm
Including calls to action.
I've also added links to relevant posts from this blog, so you can learn more in specific areas.
I hope you enjoy the book and welcome all comments below.
Tags: B2B, copywriting ebook, sites, websites, writing